How to Reset Oppo A57 4G CPH2307 Pattern
How to factory reset Oppo A57 4G CPH2307 Pattern
How to factory reset Oppo A57 4G CPH2307 to default settings, wipe all userdata, remove pattern pin password screen lock on Oppo A57 4G CPH2307  by restoring default settings.
Hard Reset on Oppo A57 4G CPH2307 is a Process to quickly wipe all userdata from it to make it clean. This Process will remove all user data from your device Including Internal storage, all security / screen lock like Pattern Pin & Password.
Download Links:
Note:
must read all partitions before process
all userdata will be erased Including Internal storage..
Steps to Reset Oppo A57 4G CPH2307:
Install USBDK and Mediatek Driver on your computer
Download & Run ROM2Box.exe
from the very first screen mark 'bypass user lock/Reset'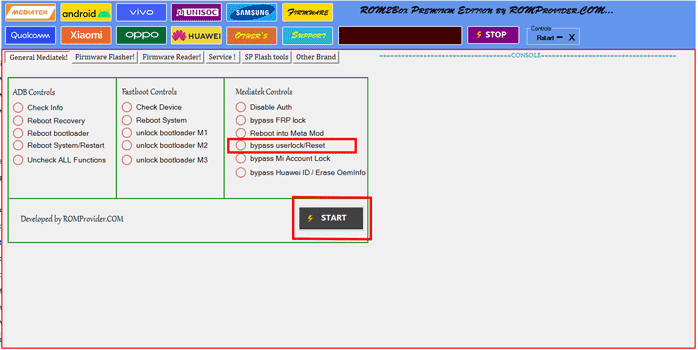 Click 'START' button
Once the process Started, turn Phone OFF, Now together Press Volume up + down key & Insert USB, Once Phone detected Immediate Release key (make sure your phone stable in device manager)
once finished
disconnect device
again connect device once charging started unplug and Switch it ON